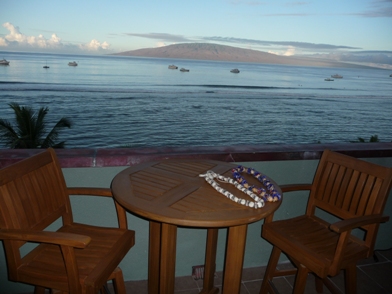 Click anywhere on this photo for more pictures
Penthouse 5
It is a wonderful feeling to step on the elevator and select the 7th floor. Step out, and there is your apartment, Penthouse 5. Open the massive door, your gaze glances past the granite counter top of the kitchen, past the mahagony dining room set, to the wall of glass with the blue Pacific Ocean beyond. The relaxation pours over you upon recognition that you have arrived and the pleasure begins.
Lahaina Shores Beach Resort is our favorite place in the world, and this is the best place to be at Lahaina Shores. Tile throughout. Energy Saver appliances. Solid maple cabinets in the kitchen and bathrooms. That's right, two baths with LED lighting and EPA WaterSense toilets. The living room, bedroom and both baths have been outfitted with LED energy saving lighting. This is responsible and green luxury.
While in the Penthouse, you have one complete glass wall, visible from every room, which showcases the blue Pacific beyond, with views of the islands of Kahoolawe, Lanai, and Molokai. Sliding doors from the living room and bedroom lead to the huge, private lanai. The level of privacy afforded is difficult to describe, yet so easy to enjoy.
If you are familiar with Lahania Shores, you know that all of Lahania is at your doorstep. Just downstairs, you will find a pool and grounds for tanning, talking or just hanging out. Next to the pool is a hot tub and around the corner at each end of the building is a grill station equipped with a gas grill. Just a few steps further, and you are on the beach where you can swim, snorkel, or have a pleasant walk. Next door, you will find the Shops at 505, which includes boutiques, excellent restaurants, pubs, and a great upscale luau, which we frequent every time we are in Lahaina. Lahaina Town is just a short 5 minute walk away, very close, while still far enough away when you want quiet.
Ready to explore Lahaina Town? No car is necessary, just a short walk up the beach, or along Front Street, brings you to the Banyan Tree, the docks filled with fishing charters and sightseeing boats, and the myriad of shops, restaurants and pubs that are Front Street! This is as good as it gets!