Penthouse 5 Photos
Below, please find our photo gallery. As you look around the kitchen, you can even click on cabinets and drawers to see what is inside. Also, we do have a couple of videos available, though your mileage may vary depending on your connection speed. The first video was taken by Autumn, and is a panoramic view of the expansive lanai. The second video shows the Traditional Hawaiian Blessing performed as we completed the Penthouse. It was a wonderful event.
We hope you enjoy the video and pictures. If there are other items you think should be included, please just let us know and we will add them!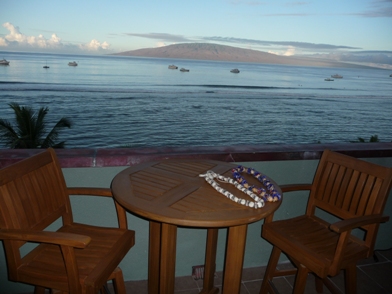 Custom sized teak cocktail table with the height at the perfect level. The lanai is really just too beautiful for words. More Photos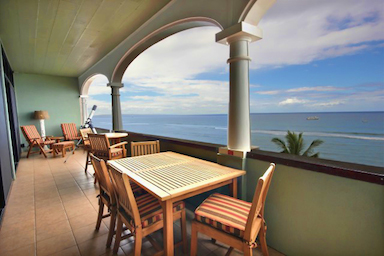 It's all about the view from the spacious lanai. We probably take more pictures of sunsets than anything. It's like every one is a new masterpiece. More Photos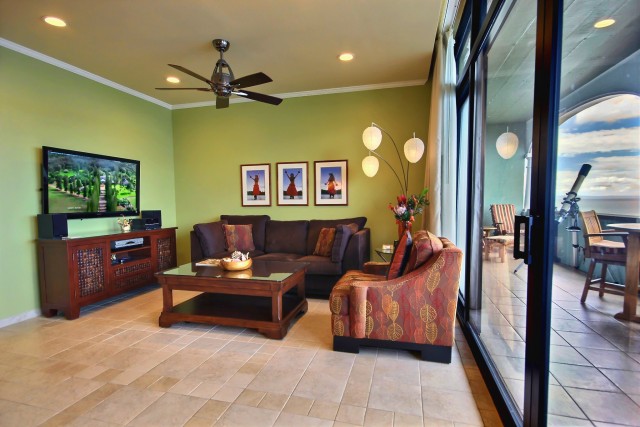 Living room showcasing the 52" HD Sony Bravia LED-LCD TV, Sony BluRay DVD player, Spectrum HD, mini Sony stereo/CD/iPod, and a queen sized sofa bed. Also, that coffee table is on wheels so that it is easy to scoot out of the way. More Photos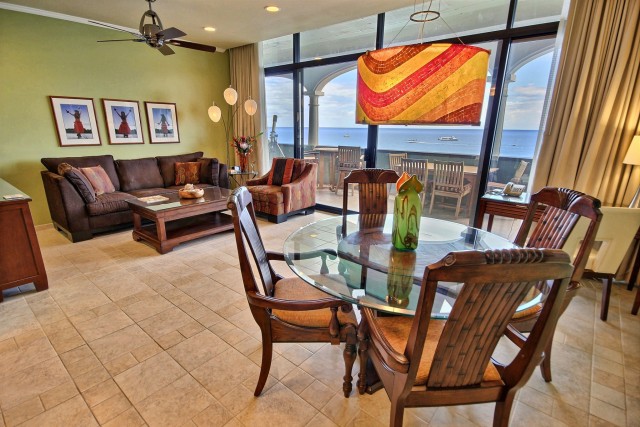 Dining area featuring mahogany dining room set and a writing desk. The kitchen, living and dining areas are painted Sugarcane Green. More Photos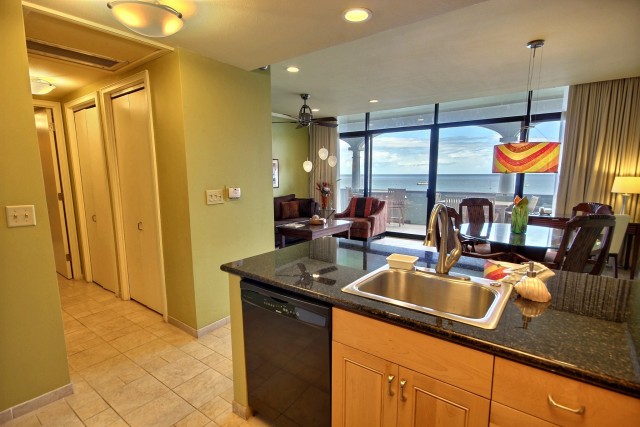 The kitchen includes all new appliances, dishwasher, disposal, convection oven, microwave, a refrigerator with an icemaker, solid maple cabinets, and a granite countertop. More Photos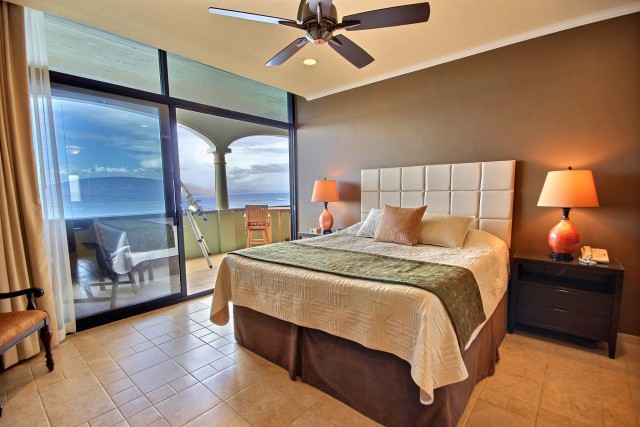 Large bedroom features a King sized bed, a 32" Samsung LCD tv, and a priceless view of the Pacific. The bed is on a raised frame so that you can store your luggage underneath and out of your way. The bedroom is painted in Kukui Nut Brown. More Photos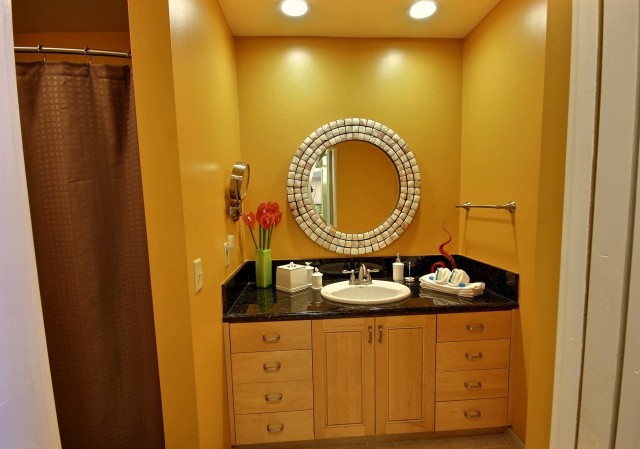 The master bath features a deep, relaxing tub, solid maple cabinets, and a granite countertop. Both baths are painted in Maui Sunset Orange. More Photos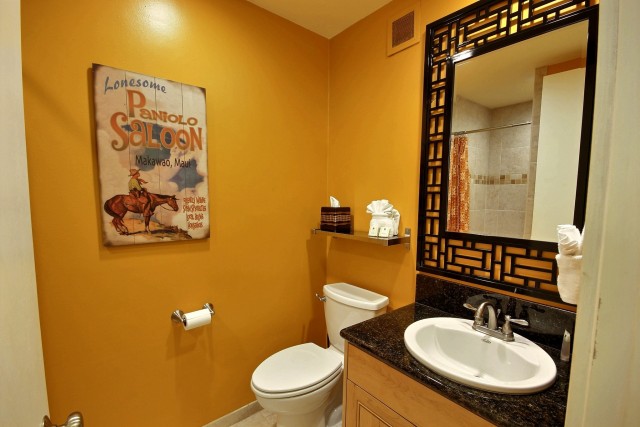 The hall bath has a tiled walk-in shower, solid maple cabinets, and a granite countertop. More Photos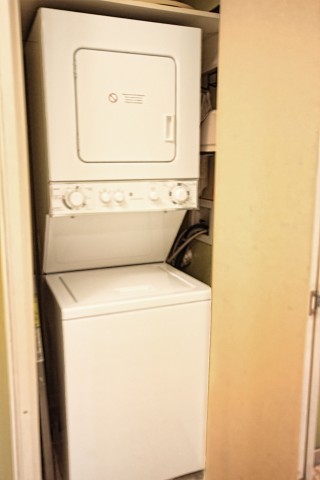 The laundry closet has an apartment sized washer/dryer, which is very convenient to minimize the number of bags you'll need to pack, even for longer stays.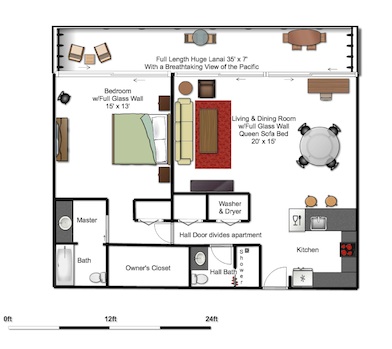 This floorplan highlights the full length huge lanai perched overlooking the Pacific with the island of Lanai, Molokai, and Kahoolawe in the distance. Also, you can see that it is easy to divide the Penthouse into two sides with each having flatscreen TVs, a restroom, and access to the lanai.
Click here for a larger view of the Floor Plan.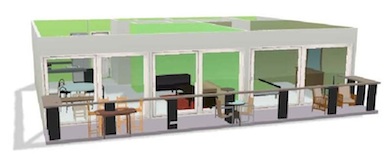 Just for fun, I hit the 3D button for the floor plan to give you an idea of what it would look like from the ocean..... if you could hover seven floors above the beach!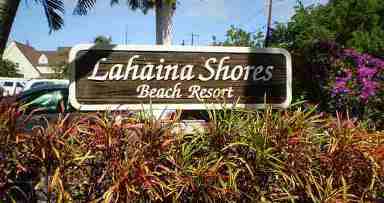 Lahaina Shores Beach Resort is the place to stay in Maui. Stunning sunsets, an easy walk to Lahaina Town with all of those shops, restaurants and pubs, pool, hot tub, beach, snorkeling.... everything you need to have the vacation of a lifetime, or just some easy downtime to recharge your batteries. More Photos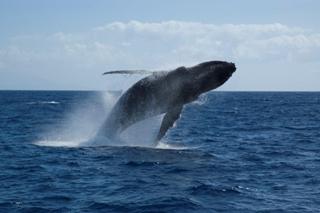 Whalewatching is what first drew us to Maui. We were in Juneau, Alaska, on a whale watching excursion, and the naturalist kept talking about the number of whales in Maui. This shot was taken by my sister on a Whale Watching trip just out in front of Lahaina Shores. Sometimes it's like whale soup!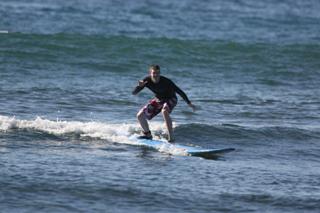 For the adventurous, just next door at 505, you can get surfing lessons, paddle board lessons, and rent equipment. This photo is of my nephew taking his first surfing lessons. Makes it look easy!